January 14, 2010 10:49 a.m. EST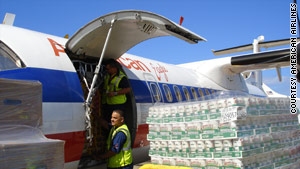 Three American Eagle aircraft flew supplies to Haiti on Wednesday after the devastating earthquake.
(CNN) -- Airlines, uncertain about when commercial service to disaster-ravaged Haiti will resume, are organizing relief flights and offering incentives to customers who donate to aid organizations.
AMR Corp., the parent company of American Airlines and American Eagle, sent three American Eagle aircraft into Haiti on Wednesday carrying 30,000 pounds of relief supplies, including food, water and other nonperishable goods, for airline employees and local hospitals and aid efforts, said American spokesman Tim Smith.
The airline plans to send three more relief flights each day on Thursday and Friday.
Twitter reports that the airline is flying aid workers to Haiti are false, Smith said Thursday.
"Last night's hoax on Twitter about American and JetBlue flying doctors and nurses to Haiti for free was just that -- a hoax. We do not know who is responsible. We cannot fly any passengers to Haiti at this time," he said.
The airline is offering its frequent-flier program members mileage incentives for contributing to the Red Cross. Starting Thursday, members can earn a one-time bonus of 250 miles for a minimum donation of $50 or 500 miles for a donation of $100 or more through February 28, according to American's Web site.
"We invite our customers to join us in supporting the American Red Cross, and it is with our deepest appreciation that we acknowledge their generosity with this opportunity to earn AAdvantage miles," said Peter J. Dolara, an American senior vice president, in a statement.
American has suspended service to Haiti. Passengers with plans to travel there this month may change them without fee or penalty through February 14.
U.S. Embassy staff at the Port-au-Prince airport said the tower and the lights were working, U.S. State Department spokesman P.J. Crowley said Wednesday.
Spirit Airlines, which operates one flight a day between Fort Lauderdale, Florida, and Port-au-Prince also canceled Wednesday and Thursday flights.
Customers with reservations for travel to, from or through Haiti between Wednesday and Sunday may rebook their travel without penalty, provided the new departure is on or before February 7, according to Spirit's Web site. The airline will waive the change fee for travelers who move their travel beyond February 7, but it will charge for any difference in fare.
The airline plans to resume flights as soon as commercial service reopens at the Port-au-Prince airport.
The airline will give 5,000 free Spirit miles to the first 200,000 members of its frequent-flier program who donate at least $5 to UNICEF, the Red Cross or Yéle Haiti. Members must register online to participate.
Delta Air Lines has canceled its one daily flight between New York's John F. Kennedy International Airport and Port-au-Prince through Saturday, said spokesman Anthony Black in an e-mail.
"We also have no current plans to operate charter service as we have not received an 'official' request from the government or our partner relief organizations," he said.
JetBlue Airways does not fly into Haiti, but the airline is waiving change fees and fare differences for passengers who were scheduled to fly into neighboring Dominican Republic between Wednesday and Sunday. Passengers may rebook flights between the same cities to depart anytime through next Wednesday, according to the airline's Web site.
JetBlue's operations in the Dominican Republic have not been disrupted, but the airline advises passengers traveling from cities in the Dominican Republic to allow extra time getting to the airport due to possible road closures as a result of the earthquake, its Web site said.