VIEW: Times are tough for airlines. Every method is employed to reduce weight. They should consider lighter passenger seats as well.
By Emma Clarke
LONDON, England (CNN) -- A Canadian airline's recent decision to remove life vests from all its planes to save weight and fuel has provoked a torrent of angry criticism.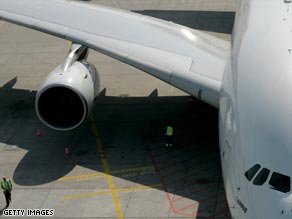 Shedding pounds: airlines try every tactic to decrease weight and reduce fuel burn
Airlines are under increasing pressure to cut costs to cope with rising fuel prices. Routes are disappearing, planes grounded, baggage charges rising, and now airlines are employing every tactic to lighten their loads to save fuel bills. But for many, removing safety equipment was a trim too far.
The decision came from Air Canada's regional carrier, Jazz Air. And the first criticism from Canadian politician, Peter Stoffer, the New Democratic Party MP for Nova Scotia: "This is not where you go to save money", he told Canadian television network, CTV. Life vests add only 23 kilograms per flight, which means they are not a serious hindrance to fuel costs, he said.
Jazz Air is keen to point out that safety remains paramount. Infant life vests will stay on board, and in case of an emergency landing on water, passengers will now rely solely on seat cushions as flotation devices.
As a spokeswoman says, its 885 daily flights all operate within 50 nautical miles from the North American shore which means Transport Canada and Federal Aviation Administration regulations do not require it to carry both flotation devices.
Jazz Air is not the first airline to take this decision, she adds. "The use of seat cushion as the sole means of flotation device has been a common practice amongst regional carriers in the U.S. and Europe for many years."
Several air travel experts on online forums and blogs have supported the decision. "Let's be honest, for the most part, if a plane goes into the ocean, there's not much left of it or anyone onboard," says air travel blog, The Cranky Flier.
Useful or not, life vests are a legal requirement on ocean-bound flights. Which means this is not a cut most airlines can consider.
But there are plenty of other tactics are on hand. As Japan Airlines (JAL) says, it is looking at its operations from every angle to find ways of reducing weight from aircraft, even if it is just by one gram.
The airline has shaved two grams from each spoon used on board its planes; introduced porcelain that is 20 percent lighter to first and business classes; and cut the weight of cargo containers by 26 kilograms using lighter materials.
Hard copy in-flight magazines could also become a perk of the past, as airlines ditch paper in favor of electronic content on seat-back TVs. Emirates was the first to go electronic with its magazine and safety instructions, saving two kilograms per seat, and one ton per 500-seat A380 Superjumbo.
British Airways has a team dedicated to improving fuel efficiency with weight reduction a key concern. The airline has reduced the amount of potable water it holds in on-board tanks; its catering trolleys are lighter and they have switched to an electronic system to replace the paperwork used by staff on board.
But there are no plans to remove the in-flight reading material yet, says a BA spokeswoman. And any changes to menus will be made to suit tastes, rather than weight.
Virgin Atlantic has set itself a target to remove one ton per aircraft for 2007/2008 by using lighter-weight alternatives for products such as carbon fiber for its cargo bins and oxygen bottles.
"Key to this challenge is working with the aircraft interior manufacturers to deliver lightweight high quality products," says a Virgin Atlantic spokeswoman.
Passengers on other airlines must now ask for sugar sachets instead of being provided them in the cutlery set. On others, beer stocks have been depleted. Airlines are also stripping old paint from aircraft and re-spraying to make them lighter.
But what's next? Will passengers be required to visit the bathroom before boarding, or asked to step on the scales at check-in, with heavier travelers paying more to fly? Given the scale of economic crisis the industry is now facing, anything is possible.